BULLETIN BOARD

This online bulletin board is for ASI member announcements and events of interest to a broad spectrum of ASI members. It is a networking tool for ASI members to share ministry needs, information, services, and ideas.* Please use discretion and do adequate background and reference checks on all ministries and individuals you respond to. All posts are made at the discretion of the ASI communications team and generally will run for a short term only. Submit events and announcements by e-mail to asi.communications@nad.adventist.org, The online bulletin board is not meant to serve as a general classified ads page. Regular ad space is available for purchase in Inside ASI magazine.
This bulletin board is a free service for ASI members, but anyone who uses this service is invited to donate to support ASI's special offering projects in appreciation for the service.
Categories:
Events & Conferences
Jobs/Volunteers
Products & Services
Special Offers & Requests
Training & Seminars


EVENTS & CONFERENCES

OCI convention
Do you or someone you know in or near Southern California want to get involved in ministry? If so please tell them about the upcoming Supporting Ministries Convention hosted by Outpost Centers International at Pine Springs Ranch from November 13-15, 2015. Join us for inspirational testimonies and multiple workshops including: how to develop a vibrant health ministry, how to start your own home lifestyle center, steps to sustainable Country Living, Heaven's Education model for the last days, hands on herbal remedies and more. For more information visit http://www.outpostcenters.org/psr2015.


One Month LIGHT School at Eden Valley October 11, 2015 to November 8, 2015
Eden Valley is partnering with LIGHT (Lay Institute for Global Health Training) to give church members the opportunity of a lifetime! Our 1 Month program is designed to quickly and efficiently empower you to meet the needs of those around you. You will learn powerful lifestyle principles and natural remedies that will increase the effectiveness of your ministry. Some of our courses include: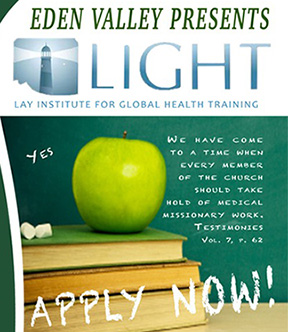 Principles of Health
Nutrition

Cooking Classes

Common Diseases

Intro to Massage

Intro to Hydrotherapy

Health Expos and Talks
Health Evangelism and Soul winning
Christian Relationships
Spiritual Counseling
Knowing God's Will
Christian Living
Coming Events
Sanctuary
Program Costs
Local Applicants $500, Local + Meals $630, Room and Board $870

Apply Now!
JOBS & VOLUNTEERS


Creators Original Design Education
We are ready to start a vocational grade school and academy in the beautiful Upper Pennisula of Michigan. At present we are taking applications for an Elementery teacher. We are also looking for one or two teachers or preferably a husband and wife team that have a BA or higher to teach math, &/or English &/or history. Please call or email: CREATORS ORIGINAL DESIGN EDUCATION
14095 S.15 Road
Rapid River, MI 49878
Phone: 1-906-286-3032
Creatorsdesign2014@gmail.com
Your Story Hour: Hosts and Scriptwriters

Christian, children's radio program located in MI is looking for hosts/narrators and scriptwriters. If interested in more information for the position please contactjclayburn@hotmail.com
Sincerely,
Julie Clayburn, President
Your Story Hour
jclayburn@yourstoryhour.org
1-800-987-7879
FB/YourStoryHour
Secrets Unsealed:
Bilingual Spanish/English Call Center Representative
Please pray we find the right candidate for our ministry.
If you possess the required skills listed below and have a burning desire to be part of a growing ministry that is reaching the world with Present Truth, we are interested in hearing from you. Secrets Unsealed is a non-profit ministry located in Fresno, California. Qualified candidates must be a Seventh-day Adventist church member in good standing, able to work in the United States, and meet the qualifications listed below.

Position Title: Call Center Representative
Position Type: Part-Time Non-Exempt 28 hours/week. Candidate must be willing to grow into a full-time position.
Pay Rate: The hourly rate will be discussed at time of formal interview.
Position Reports To: Marketing Director
Relocation: Secrets Unsealed is not willing to pay relocation expenses for this position.
Education: Minimum High School Diploma

Required Skills:
Strong Written & Verbal Bilingual English/Spanish Skills
Must Possess a Passionate Missionary and Volunteer Spirit
Confidentiality is Vital
8,000+ KSPH Accurate Data Entry
Effective Customer Service Skills
Exceptional Telephone Communication Skills
Able to Multi-task
Strong Computer Proficiency
Basic to Intermediate Word and Excel
Attention to Detail Essential
Position Responsibilities
Must become intimately familiar with all our materials (i.e., books/presentation contents and online resources) in order to assist callers and email inquiries in both languages effectively. Daily responsibilities include but are not limited to the simultaneous handling of incoming calls, emails, and order entry. Process outgoing and incoming correspondence, and assist with web orders. Greet and assist walk-in visitors. Maintain purity of database, mailing and email lists. Assist with annual Summit and ANCHOR School of Theology registrations. Log and keep our broadcasting calendar current. Pray with callers when necessary, and assist other departments from time to time as needed. Assist pastoral staff with translating and processing their emails. Perform various clerical duties, and assist with various projects as assigned by the Marketing Director. Responsibilities are subject to change in order to accommodate department needs and overall ministry growth.

How To Apply For This Position
Qualified candidates may email their resume to aileen.pyburn@secretsunsealed.org along with a cover letter, three previous employer references, the name of the church of your membership, and the contact information for your church Pastor.
My name is Ray Sample, my wife Crystal and I have been in music ministry and the spoken word for the last 4 years, traveling across the US, singing and speaking in churches from Georgia to Washington State and many places in between. My family and I share a passion for music and sharing the Love of God through music and the spoken word. In the last few years all the scheduling of concerts and speaking engagements has been my responsibility but I'm now looking to find someone who is interested in taking over the responsibility of booking concerts and setting up our schedule for us. I'm not sure what that would look like but I would love to talk to you about that if you are able to help us. the easiest way to get in touch with us is by phone, my phone # is 509-876-7879, or by email, craystalsinc@gmail.com, our website is www.myheartsings.com and you can go there to see the type of music we sing. I'm hoping to find someone who share the same passion for the beauty of the hymns, and understands the importance of music and the purity in Godly music. Someone who will be willing to work with us and help us to reach our goals. Please get in touch with us if you are interested in learning more about my family and seeing whether you would be able to help us or not. Thank you for your time. Ray Sample


Fountainview Academy is an 80-student boarding school nestled in the beautiful, pristine mountains of British Columbia. Leading young people to Christ is our first priority. We are an accredited school with excellent facilities and a promising future. Fountainview Academy operates with a dedicated team of staff and administrators. To see a list of our current job openings, please visit our website www.fountainviewacademy.ca.




IT IS WRITTEN EMPLOYMENT OPPORTUNITIES


It Is Written is moving to Chattanooga, TN, and with this expansion is seeking ministry-minded professionals for the following positions: Marketing/Development Director, Hispanic Ministries Coordinator, Creative Director, Publishing Director, Graphic Designer, Customer Service Manager, Data Entry Specialist, Warehouse Coordinator and Administrative Assistant. For full details and application instructions, visit www.itiswritten.com/jobs.


Do you want to become a Professional Health and Wellness Coach, Life Coach or Marriage Coach. Need professional Coaching? want to become part of a professional network of Adventist Christian Coaches. If so, contact Adventist Christian Coaching Alliance at Adventist Christian Coaching Alliance or (715) 310-296.

Rekindle the Flame Ministries is seeking a grant writer to help with writing a grant for our ministry. If interested in helping us please contact RTFM at (715) 310-2196 or email us a rekindletheflametoday@yahoo.com
Washington Adventist University (WAU) is a Christ-centered institution of higher
education that supports a culture of excellence where all feel valued. Nestled in a
desirable residential community in Takoma Park, Maryland, WAU offers its faculty and
staff an environment where professional expertise is valued and lasting connections
between co-workers are formed as we work together to ensure the success of our
students. Regardless of title, every employee supports WAU's vision of producing
graduates who bring moral leadership and competence to their communities. This
vision of preparing students for "the joy of service in this world and the higher joy of
service in the world to come" permeates everything we do at WAU.
We are currently recruiting for several key leadership positions: Vice President of
Student Life, Vice President of Development and University Relations, Vice President
of Information Technology, Director of the Library and Nursing Program Administrator.
For detailed descriptions and more information about these openings, please visit
www.wau.edu/work-at-wau .


Fountain View Academy

Fountainview Academy is an 80 student boarding school nestled in the beautiful, pristine mountains of southern British Columbia. Discipling young people in their walk with God is our first priority. Fountainview Academy an accredited grade 10-12 school with excellent facilities and a promising future. Fountainview Academy operates with a team of dedicated staff and administrators. The following positions are currently open:
Head Girls Dean, Assistant Girl's Dean, Student Girl's Counselors, Assistant Boys Dean, Student Boys Counselors, Maintenance Manager, Cafeteria Manager, Administrative Assistant, Media. We also need a teacher(s) proficient in math, science, Bible, English, and social studies.
For more information you can visit our website at: http://fountainviewacademy.ca/job-postings/


Join us in 2015 for our annual AMNA team mission trip!
The cost for the trip is only $500 per person and $1,500 max per family (up to 5 persons in a family). In April of 2015 AMNA (Adventist Missionaries to North America) will be going to West Central Kentucky to the Appalachian Mountains to engage in missionary work that will include building projects, children's programs, health talks and building relationships for Christ. If you are interested please contact us soon as we max out at the total of 50 persons. We provide the food, room and board, transportation while there, as well as the mission opportunity, while you spend 7 days on this short term mission trip reaching people for the kingdom right here in North America. Contact us today at (715) 310-2196 or sdaamna@gmail.com to learn more about this trip or have an application sent to you!
The question has been asked: Will AMNA go anywhere in North America? The answer is yes! If you know of any mission project that you feel we could possibly help you, your church or your group address, please contact us to see how we could arrange a missionary or team or missionaries to address those needs. We can do short term or long term trips depending on your needs!
Sermon View, the fastest growing Adventist evangelism printing and mailing ministry in the NAD, seeks a full-time marketing assistant in our Vancouver, Washington, office to plan and execute marketing programs for our various product lines. Position also consults with local churches and helps hone messaging on handbills and other marketing pieces for evangelistic campaigns. Evangelistic-minded marketing professionals can learn more at www.sermonview.com/jobs
Mission minded persons needed for newly developing program at Adventist alternative school (Miracle Meadows School):
1. Two positions for persons with some successful administrative experience;
2. Two positions for Progress Coach/Mentors for girls ages 6-12 or 13-17. Need mature, loving, firm, teachable, Christian SDA;
3. Women needed to Mentor/mother boys, ages 6-12 or 13-17. Mature, loving, firm, teachable, Christian SDA. Good with guys;
4. Garden/greenhouse/grounds supervisor. Able to work with students/staff;
5. Work education supervisor. Plan, teach, model, evaluate, improve work education program;
6. Social/Emotional Learning (SEL) Coordinator: assure the scheduling, teaching, evaluating of SEL for staff/ students/ parents;
Contact: Gayle 304-266-1563 or bgclark46@gmail.com

IT/Computer Coordinator needed (degree not necessary). Adventist alternative school for students, ages 6-18, needs a mission minded person skilled in IT. Join a dedicated team active in winning the hearts, mind and souls of precious youth who are experiencing at-risk behaviors. Training, housing, meals, paid leave, utilities, etc. are provided. Free medical also available. Stipends start at $700 per month. Contact Miracle Meadows School, phone 304-782-3630 or bgclark46@gmail.com. Located in Salem, WV.
Sales/marketing person sought by Certified Organic, ministry-oriented Seventh-day Adventist market farm located in sunny Arizona. Seeking a motivated individual who is passionate about promoting healthy, local, organic food. For more information or to submit a resume please contact: info@sunizonafamilyfarms.com.
Missionary teacher needed for Navajo reservation near Page, Arizona! Ten months per year. One-room, multi-grade school. Stipend included. Call Kelley Fowler at Diné Outreach, 928-221-9477 or email oliveandsage@yahoo.com.
PRODUCTS & SERVICES


A New Soul-Winning Tool
Attention All Pastors and Soul-Winners:
I want to tell you about a fantastic, new soul-winning resource that is now available from Seminars Unlimited. This mail-out card offers FREE Bible study opportunities as well as a FREE copy of The Desire of Ages. Many churches have already experienced amazing responses to Seminars Unlimited's card, "A Gift for You" offering Bible studies!
Now, matched with the free Bible study offer, you can offer a copy of The Desire of Ages to those who are interested. This targeted approach is much more effective than simply mailing copies of books to your entire community. This way you are able to identify those who are interested--and follow-up.
The attractive four-color card will bring results. And it is cost-effective!
For more information on how you can use this card in your community, call 817-641-3643 or 1-800-982-3344 and ask for Ella. Ella will walk you through the simple steps.


Your Story Hour® EXCITING EVENTS - Available November 2014!!
Your Story Hour® proudly presents this first set of exciting, dramatized stories in our new series called "EXCITING EVENTS." Listen as Desmond Doss, the courageous WW2 medic, saves the lives of 75 wounded American soldiers on Okinawa. Or return to the year 1781 as teenager Emily Geiger risks her life to carry a secret message from patriot officer Nathan Greene through enemy lines. Catch the action as 11-year-old Allen Jay helps a runaway slave escape via the Underground Railway...or as young Johnny Darragh bravely carries coded messages to George Washington's army. Discover how teenage sculptress, Vinnie Ream, becomes a true friend of Abraham Lincoln...or how young Abbie Burgess single-handedly saves countless sailors by keeping the Matinicus Rock lighthouse burning when violent storms keep her father from returning home. Great listening entertainment for the whole family!


Need specialized ministry vehicles? I'm a member of the Houghton Michigan Seventh-day Adventist Church. I am 72 years old and have revolutionary inventions that I believe reflect the Daniel 12:4 increase in knowledge in the last days. This invention could potentially save in natural resources and fuel, and I would like to use them to help finish the Lord's work. Visit my website at www.lowfloorvehicle.com to see pictures of my ideas for great mission vehicles that are very simple, robust, lightweight, fuel efficient, on or off-road, with amphibious capabilities. I have been building variations of these designs for over 40 years. -Ed Lahti
American Christian Ministries Holiday Super Specials. Resources and gifts of eternal value from a large archive of authentic, Bible-based materials. MPE downloads, MP3 discs, books, DVDs, and CDs. Take advantage of special pricing, free shipping, and bonus gifts. Visit AmericanChristianMinistries.org (formerly American Cassette), or call 800-233-4450.

AdventList.com is a new website for Adventists to do business with Adventists. It's sort of a CraigsList for Adventists. There is no charge and no advertising. It's a free service to Adventists. Visit AdventList.com to post your announcements, offers and needs.

Read Presidential Perspectives, a blog by Ted. N.C. Wilson. Online at http://perspectives.adventist.org/. This blog is designed to be a source of inspiration to the world church. (12/30/11)

Calling all Adventist Speakers and Musicians! Sign up now to join the Adventist Meetings speaker registry. Meeting planners seeking speakers for a variety of events will use this registry. AM is looking for a wide range of speakers and musicians representing a variety of ministries and backgrounds. To join the registry, visit www.adventistmeetings.com/login.php. (10/4/11)
"For the Love of Music" is a ministry that provides instruments for needy kids and schools that do not have the funds to purchase them for study. The ministry provides instruments and helps schools establish an orchestra. The ministry is a 501(c)(3) nonprofit organization with the goal of promoting the love and study of music within our churches, schools and homes. Contact Herman and Sonnie Harp at 423-315-2661 for more information. (1/15/11)
Adventist Preaching offers inspiring sermons for both home and church. Visit our updated website to view all 25 editions of great Adventist Preaching. View a video clip of each preacher. Link to the shopping cart to select your favorites. Visit the Adventist Preaching website. (10/15/10)
International Development Mission has developed a new series of colorful Spanish Bible lessons for children ages 6-12 years old. The lessons are based on the life of Jesus. These 13 lessons and accompanying quiz sheets are suitable for the mission field. IDM will cooperate with any ministry that has immediate and specific plans to work with Spanish speaking children in the United States or overseas. Many additional audiovisual resources are available as well. For more information, e-mail idmusa@bellsouth.net or call IDM Inc. at 407-880-3737. (10/1/10)
This Is Life Eternal chronological Bible study program is available online or by mail for FREE. Developed by the daughter of an evangelist, this wonderful Bible study plan is designed to bring the Bible to life as the "brighter light." Individuals and small groups in at least 60 countries are using it, resulting in baptisms. Visit the This Is Life Eternal website for more information. (7/15/10)
BibleWorkerConnect.com, a new website to connect churches and organizations with Bible workers. This new resource, started by ASI member Karen Lewis, Rocky Mountain Conference Bible worker program director, allows projects to connect more easily with available Bible workers. For more information, e-mail lewkarenann@comcast.net or visit www.BibleWorkerConnect.com. (7/15/10)
Restoration International, Inc., invites you to subscribe to its quarterly publication, Forever a Family magazine. With its fresh, vibrant design and short, captivating articles, this magazine brings practical, Biblical advice on a variety of helpful topics. Various organizations have discovered its usefulness as an outreach tool. Healthcare professionals are placing it in their waiting rooms; church congregations are using it for community literature work, and families are sharing it with neighbors and friends. Forever a Family magazine offers a pleasant, gentle way to nurture and encourage newly baptized members. Visit the Restoration International website to view previous issues and subscribe. (12/17/09)
Wildwood will now bring it's health emphasis seminars to you! Many are aware of the beneficial health programs offered at Wildwood Lifestyle Center & Hospital in Wildwood, Ga., but not everyone has the time or resources to attend one of Wildwood's residential programs. Representatives of Wildwood are now making themselves available for speaking engagements and seminars at churches, businesses, government agencies, and small groups in return for transportation costs, meals, lodging, and a small stipend. Presentations may include, but are not limited to cooking school demonstrations, one-on-one consultations and screenings regarding physical and spiritual health, and dynamic programs on obesity, heart disease, cancer, diabetes, arthritis, depression, and epidemics such as the H1N1 virus. Visit the Wildwood Lifestyle Center & Hospital website. (11/30/09)
Burkett Satellite, a family-owned business which operates near Sunnydale Academy in mid-Missouri, offers discounted service and information for Seventh-day Adventist construction of radio and television services that spread the gospel message. Contact Micky Burkett at 1-877-687-2203 for more information. (10/27/09)

SPECIAL OFFERS & REQUESTS

AMEN Luncheon at ASI
Feeding His Sheep: Medical Missions & Evangelism Collaborating to Spread the Gospel
Physicians, dentists and their families are invited to attend the AMEN luncheon Friday August 8, 2014 at the ASI convention in Grand Rapids, MI (12-2pm in Amway Grand's Ambassador East ballroom). AMEN members will share inspiring stories from Free Clinics that were conducted in California this spring. Then Don Mackintosh's passion for medical evangelism will inspire you to do likewise! Space is limited so please RSVP on our website: amensda.org/events or by emailing barnhurst@amensda.org. Lunch will be provided by AMEN. However, a free will offering will be collected to help defray the costs. We look forward to seeing you there for a wonderful time of inspiration and fellowship.

Malia is a sweet, happy and beautiful 2 year old recently diagnosed with coarctation of the aorta. Coarctation of the aorta is a narrowing of the aorta, the main blood vessel carrying oxygen-rich
blood from the left ventricle of the heart to all of the organs of the body. In the presence of a coarctation, the left ventricle has to work harder, since it must generate a higher pressure than normal to force blood through the narrow segment of the aorta to the lower part of the body.
The narrowing has to be fixed to prevent congestive heart failure or inadequate blood flow to the organs of the body. She is scheduled for surgery June 6. This is a very invasive surgery so she will spend one night in the Pediatric ICU and 2-3 nights on the Pediatric floor.
As you can imagine this surgery is not without expense. Wes & Joanie have a huge amount of medical bills that they will be having to pay following the surgery.
Thank you for your prayers they will mean so much to our family.
Private country lots on the Cumberland Plateau only 55 minutes from Southern Adventist University. Property features gorgeous long-range views, mature hardwoods, city water, underground utilities and a stocked small lake - all at 2,000' elevation at the end of county road, bordered by 3,000 acre tree farm. Two to 10 acre lots starting at $3,500/acre. Call 301-992-7472. For pictures, plats and more information http://kismetkennel.com/countryland.html
A Key Encounter Nature Theater & Planetarium is offering its planetarium dome, projection equipment, and original program for sale for $40,000.
LLT Productions is offering "The Seventh Day" (complete set) to local churches for half price. Visit the LLT Productions website for information and for showing dates for and locations for "Hell and Mr. Fudge."

W.D. Frazee Sermons would like to provide your church/school/business library with a free set of our books. If your church, school or business (including dentist and doctor waiting rooms) has a public library or public waiting room, please have the librarian, pastor, head elder, principal or manager contact us so we can get the materials to them. You can find out more information about this library project visit http://wdfsermons.org/free-materials/library-project/.
TRAINING & SEMINARS
Do you have a burden and passion to be a missionary? Would you like to be a missionary to North America? Then visit our web-site at sdaamna.weebly.com or call us at (715) 310-2196. Live life with purpose: Become a Missionary!
-David Guerrero
"Rebuilding the Lives of Others Through the Ministry of Christ"
Rekindle The Flame Ministries
Professional Life and Marriage Coaching Certification
Life Discovery and Calling Coaching
Interns needed for Better Living Ministry's new media missionary training program in Quebec, Canada. Plans are moving forward but we still need more students. If you are interested in our 1-year media training program which starts on January 13, 2014 please fill out our application form. If you know others who may be interested in this training, please forward this email to them. We would also invite you to make an announcement at your church. More information regarding our training program can be found on the Better Living website.
Rekindle the Flame Ministries Marriage Enrichment Weekends presented in your church. Cost is $45 per couple plus travel expenses for the facilitator/training. Includes a complete computerize professional Prepare/Enrich Marriage assessment with results. Session topics include sharing strength and growth areas, SCOPE personality, stress profile, communication, conflict resolution, financial management, spiritual beliefs, sexuality, romance and affection, closeness and flexibility. Call 715-254-6623 for details.

Black Hills Health & Education Center programs - 25% discounts! For more information on pricing, please call 605-255-4101 or visit www.bhhec.org.

M.I.D.W.E.S.T. Center of Evangelism is now offering Bible Worker/Medical Missionary Certification Training Online! Learn how to become an effective soul winner like Jesus. This online training program allows you to stay where you are and at the same time be trained effectively. This on-line program leads to certification as a Bible Worker and Medical Missionary. The program is a joint effort by LIGHT and Rekindle the Flame Ministries. Visit the Rekindle the Flame website at www.rekindletheflameministries.org and click MIDWEST for information or call 715-310-2196. (10/4/11)